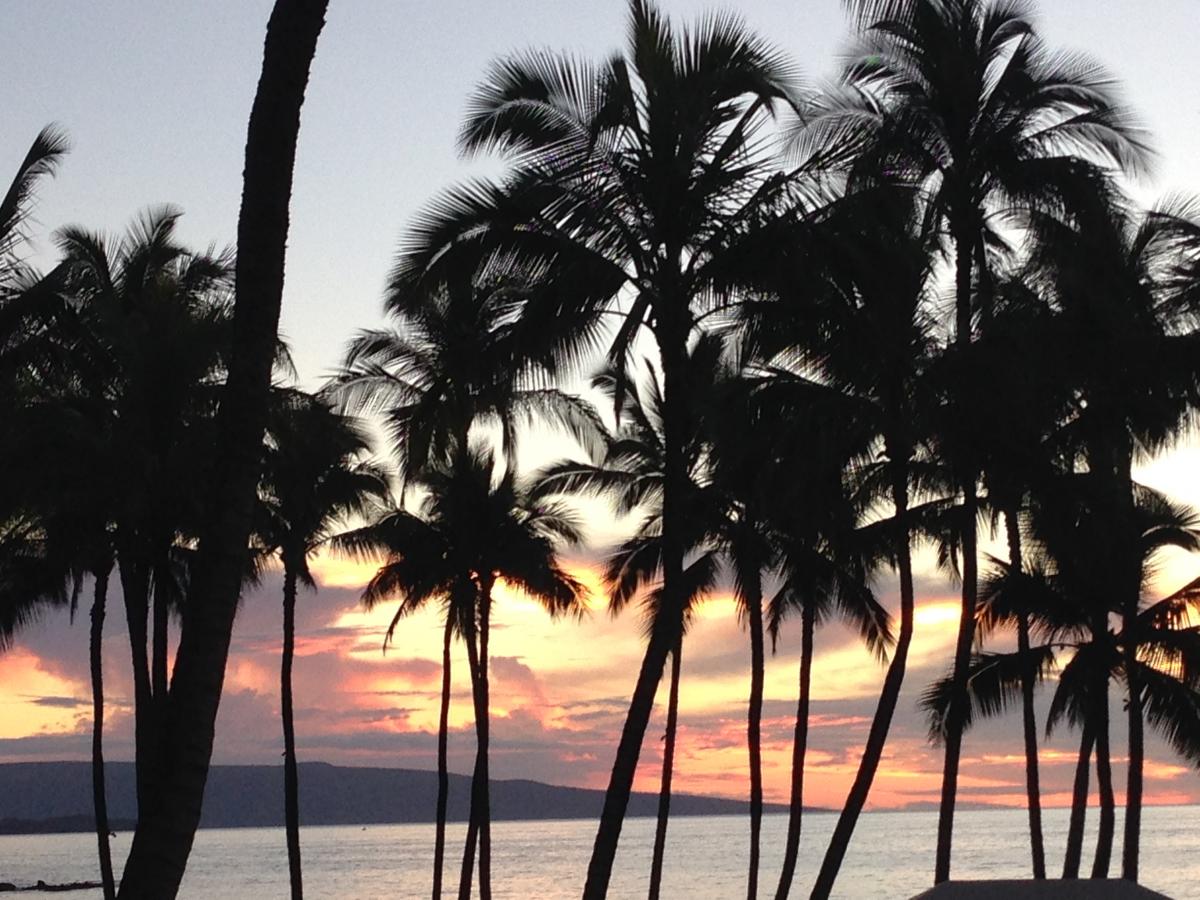 As we ride our bicycles on Maui from its heavenly beaches to its scenic natural wonders there are plenty of reasons to see why Maui has been voted "Best Island" by readers of Conde Nast Traveler for more than a dozen years.

Many people have said they always wanted to go to Hawaii, and now combining bicycling, we can experience the perfect vacation.

We ride through the black lava fields, which remind some people of the landscape on the moon (though so far none of the participants have actually been to the moon).

We enjoy a "free" day to enjoy your own personal adventure, including the Road to Hana, Riding down (or up) Haleakala Volcano, Zip Lining or taking a snorkeling or scuba trip.

For two days due to the consistent trade winds, we will ride part of the ride with a tailwind that norm

ally averages from 20 mph!

Unpack only one time. We stay in luxury condominiums with full kitchens for the entire tour.

Of course the best part of Hawaii is when we just relax and absorb the spectacular Hawaiian views and sunshine
Day 1, Saturday; November 2, 2024
Check into the Kamaole Sands throughout the day in Kihei, known for being "Sandy and Sunny" with the area's most desirable attraction – the beaches and the ocean. With a beach directly across the street, everyone can enjoy snorkeling, swimming or just relaxing on the beach. In the evening get situated, then prepare to meet new friends during the Welcome Meeting and Get Together, which is scheduled for the next morning, Sunday; November 5 at 9:00am. (With so many people flying from different destinations and arriving at different times, the Hawaii trip welcome meeting is scheduled for Sunday morning unlike all other Vacation Bicycling trips.)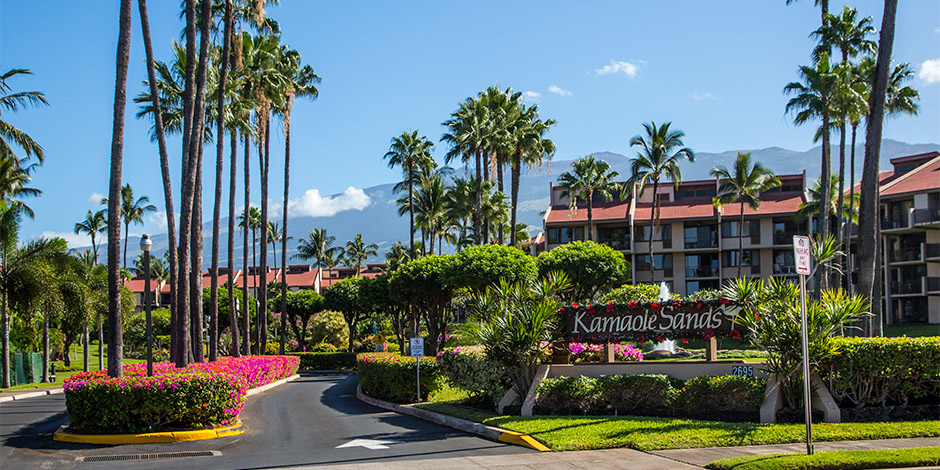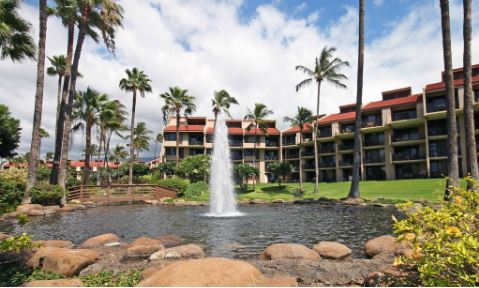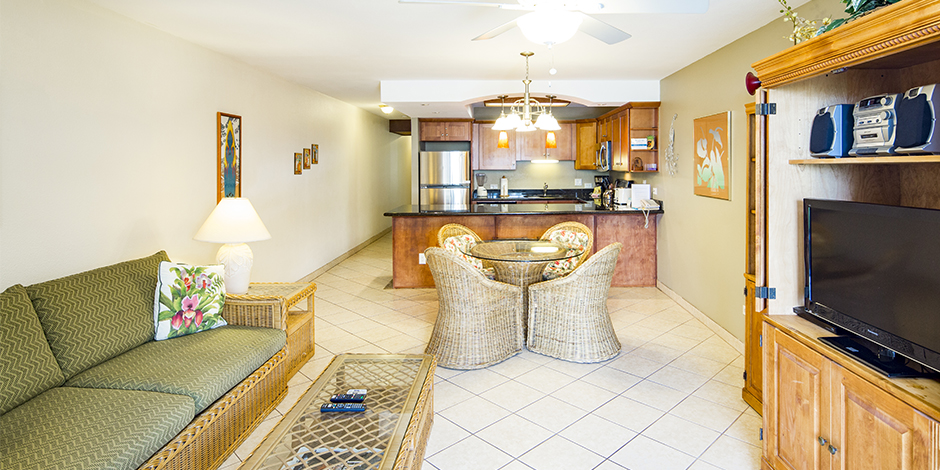 Kamaole Sands
- Each "room" is actually a self-contained 1-bedroom condo unit with 1 bed and a pullout bed -
(Stay at the same hotel for the entire bicycle tour. Just unpack one time!)
Internet

Swimming pools

Hot tubs

Full Kitchen

Living Room

2 Full Bathrooms

Grills

Washer & Dryer in each unit

Located adjacent to Kamaole Beach Park and the ocean

Snorkeling available from the beach
On your own the first night.
Day 2, Sunday; November 3, 2024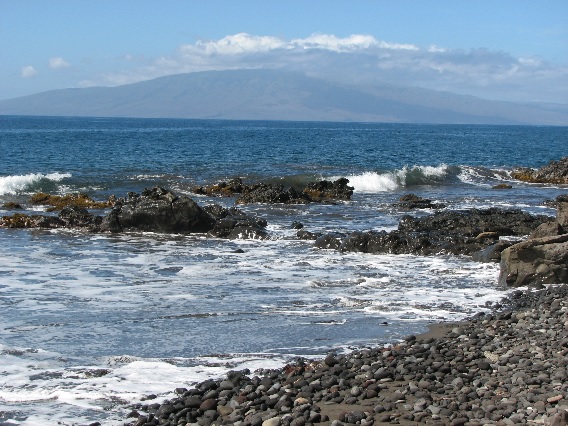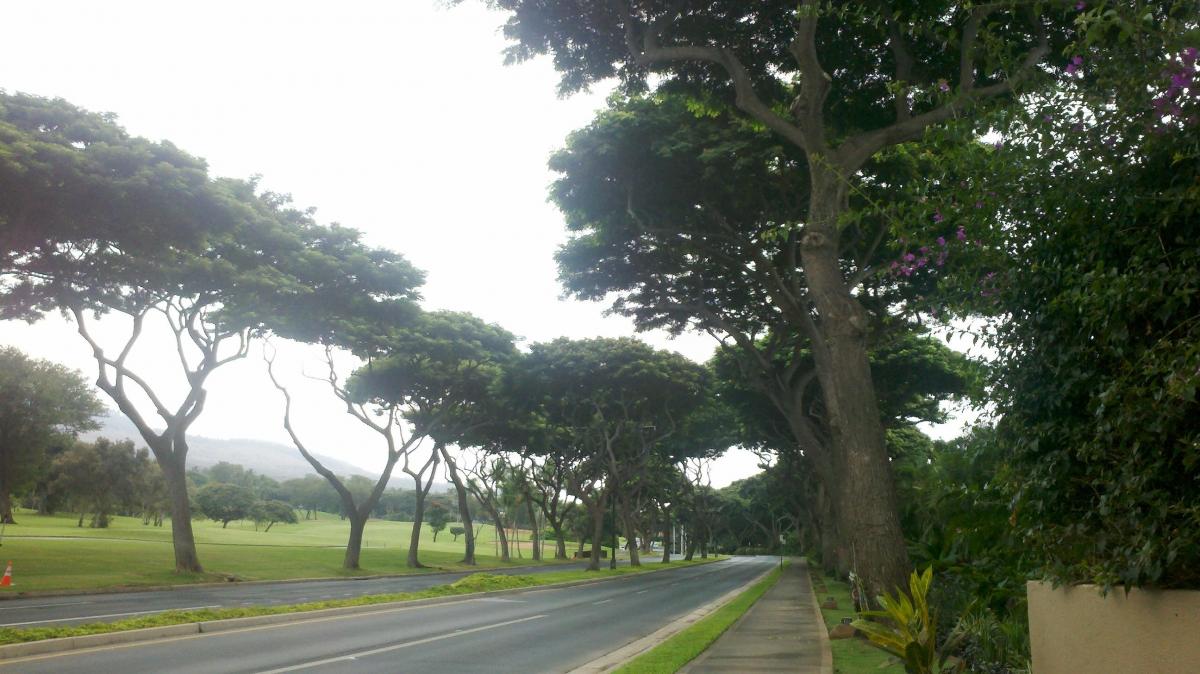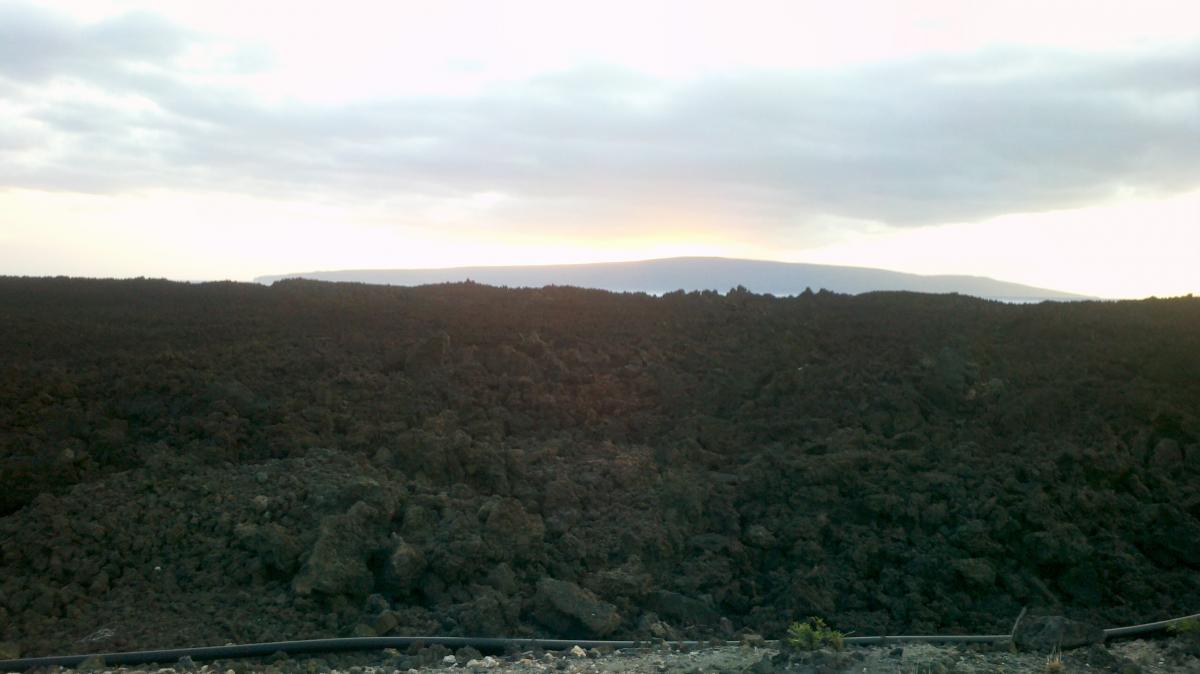 Makena State Park & Ahihi Kinau Natural Area Reserve
The best way to start a Maui group bike vacation is to ride next to the ocean. Leave our new home, where we will stay for the entire trip and view the beauty of Maui on an unforgettable ride near and along the shore, riding south of Kihei through Makena State Park and Ahihi Kinau Natural Area Reserve. Then view the distinct ecosystems as you cruise through the black lava fields behind Haleakala volcano. Welcome Meeting and Get Together scheduled for 9:00am Sunday morning.
Breakfast:  
On your own each morning. Each condo unit has a full kitchen to allow you to prepare your perfect breakfast or eat breakfast at one of your favorite restaurants within walking distance.
Bicycling route: 0 miles, staying at the condo or 22 miles, riding the complete route.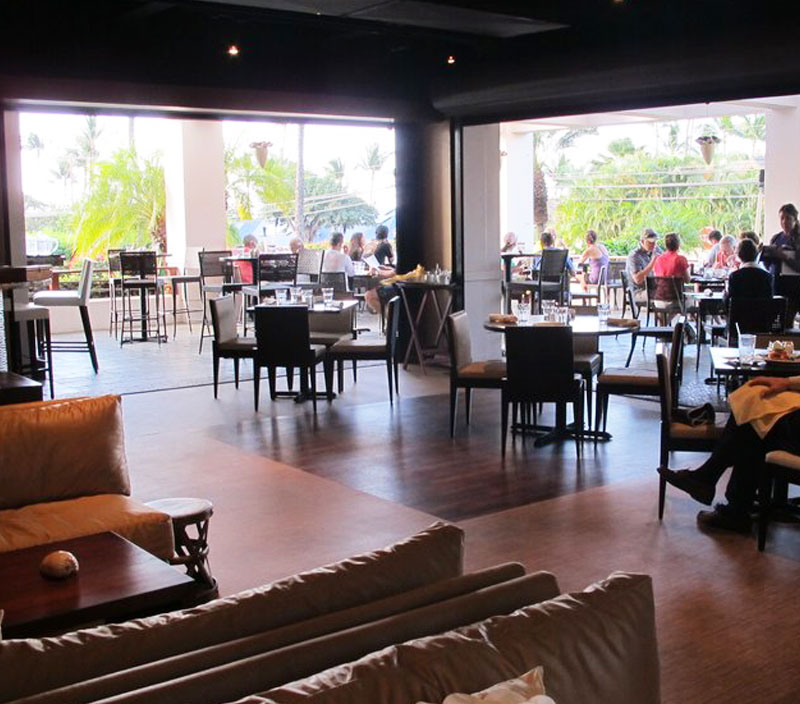 Dinner:
'Ami'Ami
Entrée choices:
Panko Crusted Mahi-Mahi - Pineapple salsa - soy butter sauce - steamed rice - vegetables
Macadamia Nut Crusted Chicken - Lemon caper butter sauce - mashed potatoes - asparagus
Shrimp & Fish Fry - Noodles - vegetables - tofu - macadamia nuts - lime

New York Strip - 

12 oz strip -

 sautéed

 broccolini - mashed potatoes - crispy onions
Day 3, Monday; November 4, 2024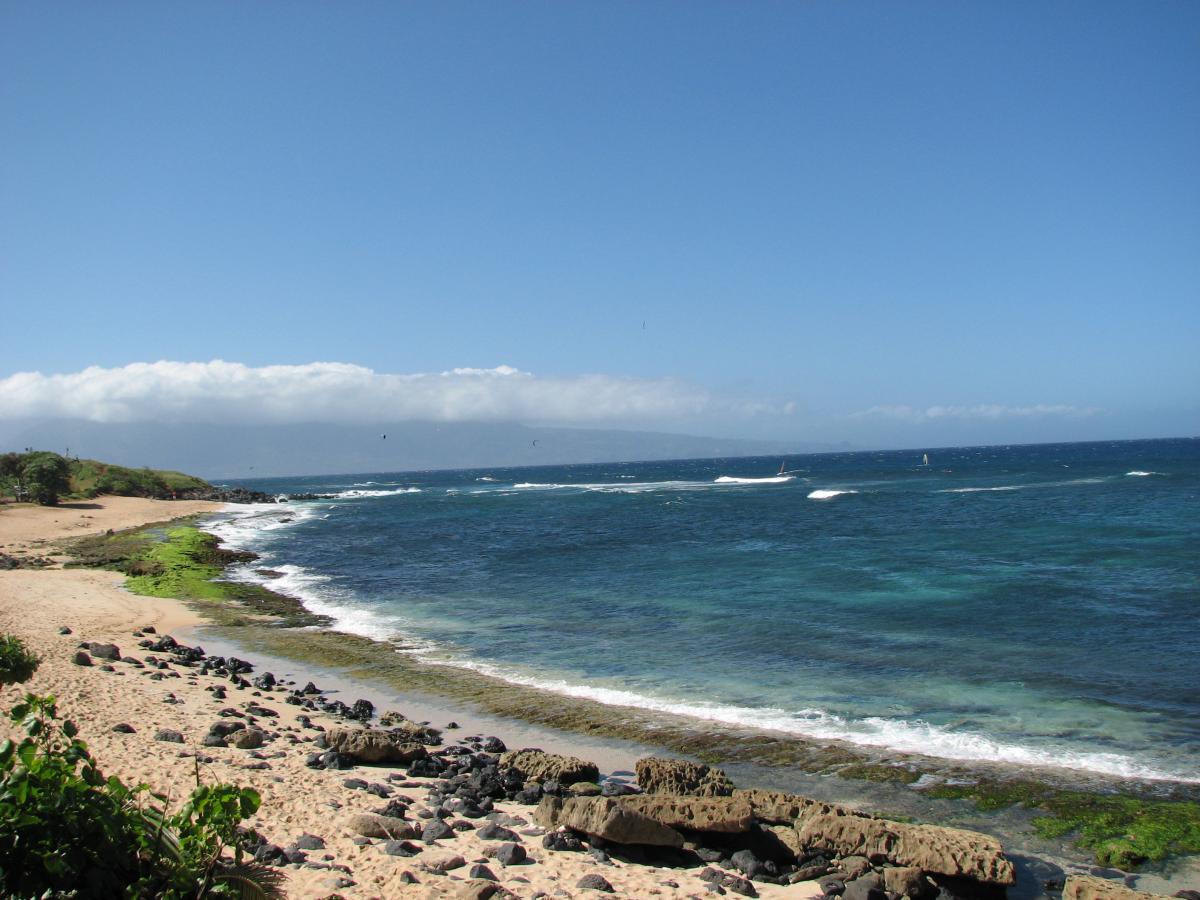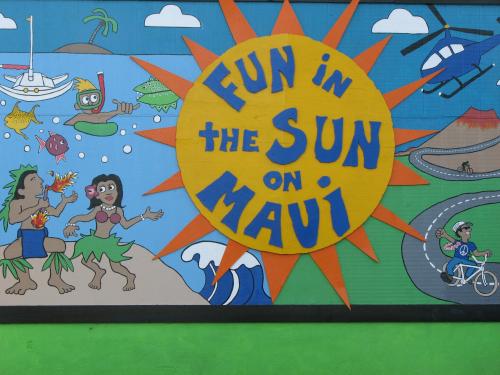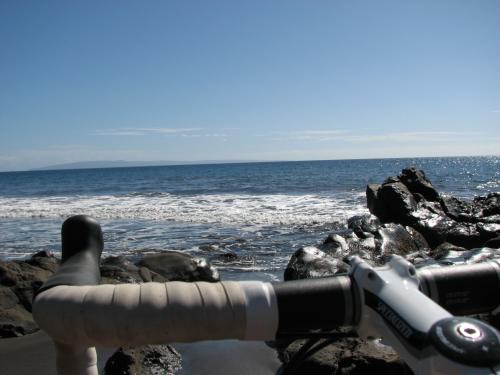 Today journey by bicycle from Kihei to Lahaina. Oceanfront bike riding from behind your handlebars with beautiful ocean views all along the way is an amazing way to take in the beauty of Maui. Once you arrive, check out all the attractions, restaurants, shops and the world famous Banyan Tree, which is the most visited tourist attraction on Maui. Then send actual painted coconuts as postcards, telling friends of your adventures on Maui. The fun never stops in Maui. 
Bicycling route: 0 miles, staying at the condo or 50 miles, riding round-trip to Lahaina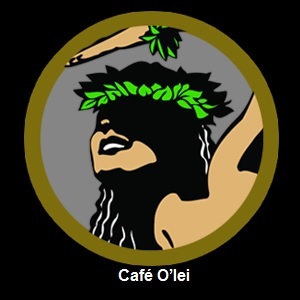 Dinner:
Café O'lei
Entree choices:
Togarashi & Sesame Seared Ahi - Ginger butter sauce, wasabi aioli, crisp daikon, sesame, steamed rice.
Blackened Mahi-Mahi - Big island papaya salsa, Chinese parsley, light ginger butter sauce, steamed rice.
Roast Prime Ribs of Beef - Hawaiian Alaea salt crusted, horseradish, popover, buttermilk mashed potatoes, au-jus.
Mac Nut Crusted Breast of Chicken - Lemon-caper butter sauce, asparagus and mushroom linguine.
Day 4, Tuesday; November 5, 2024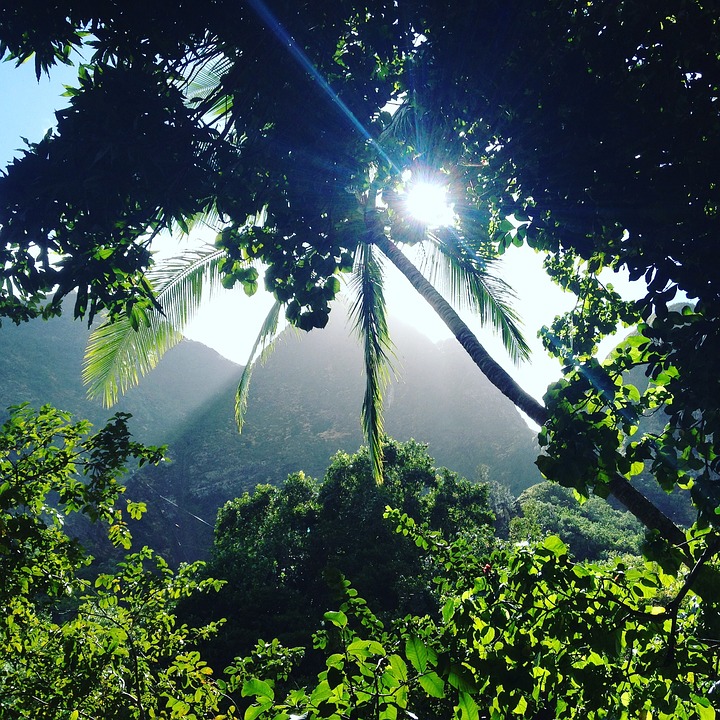 Iao Valley State Park with Paved Dedicated Paths between Kihei and Kahului
Today is a great day to ride our bikes to Iao Valley State Park and the center of Maui, enjoying many beautiful island views and taking unforgettable pictures. Iao Valley Sate Park was ranked 24th on Thrillist's list of the best 25 state parks in the nation. The valley is rich in culture and this lush park is one of America's most unique areas. According to U.S. News and World Report this area is a "Must See" and lists it as the #10  Best Things to do while in Maui!
Bicycling route:
 0 miles, staying at the condo or 38 miles, riding round-trip to Iao Valley State Park
Dinner:  
Day 5, Wednesday; November 6, 2024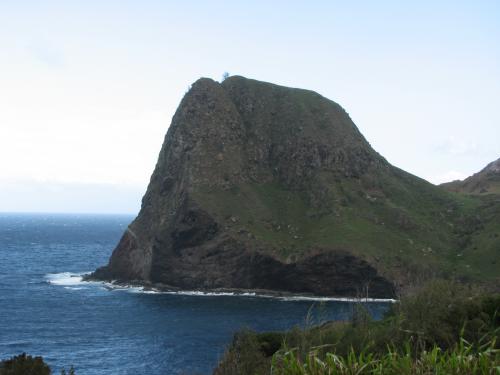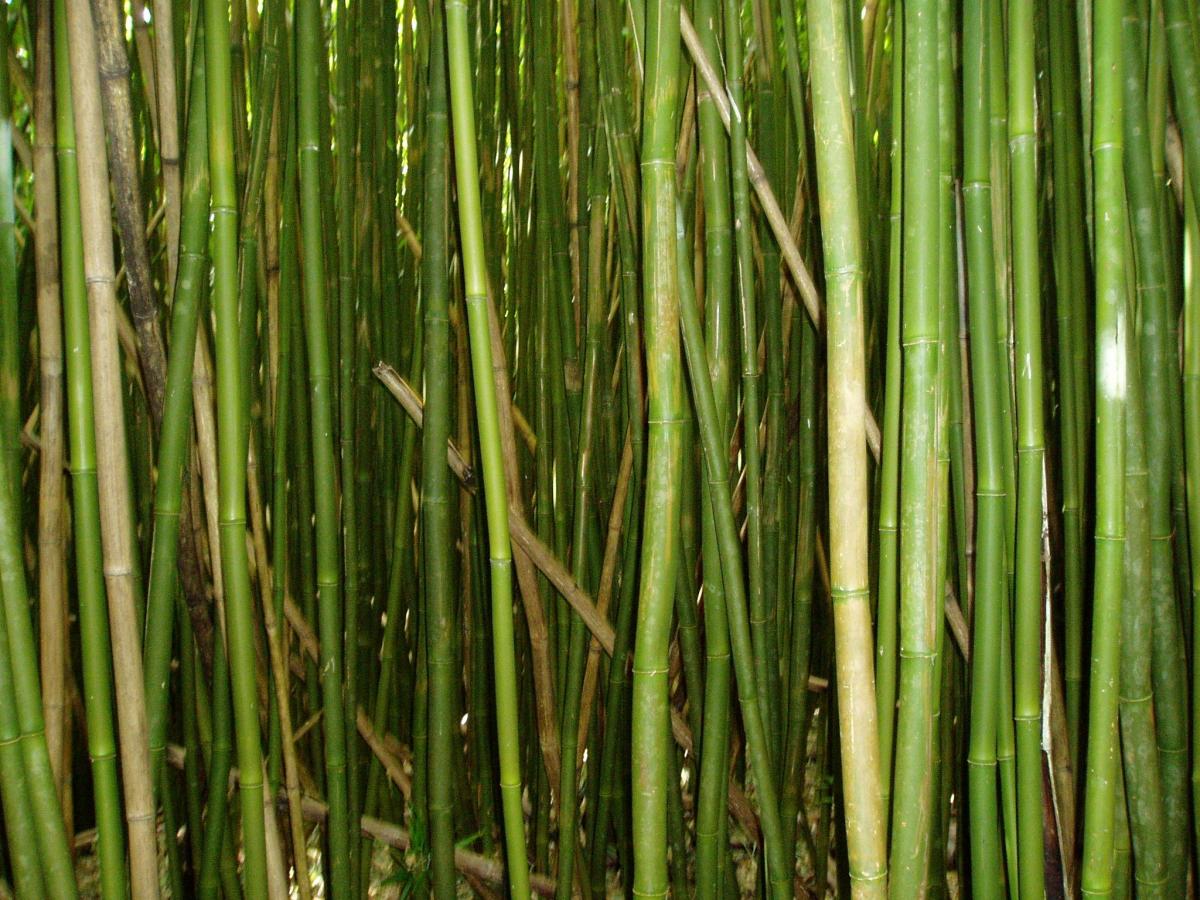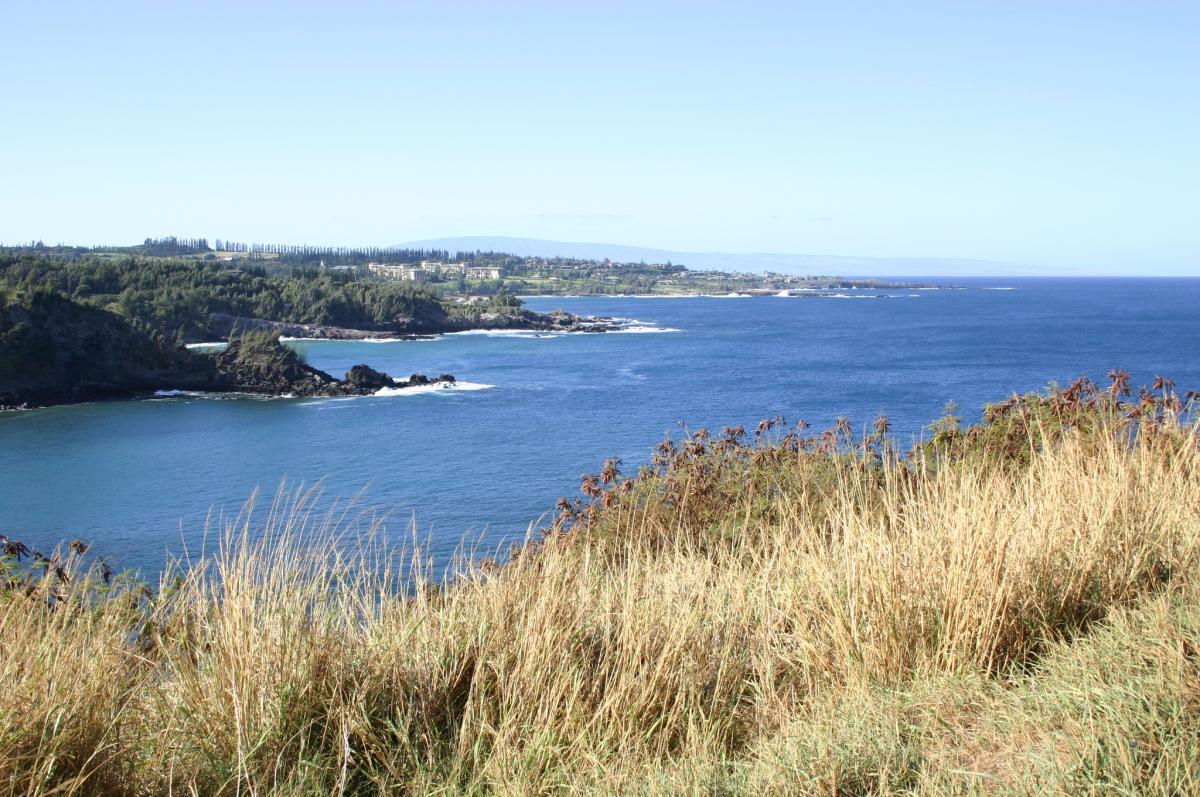 Free Day in Maui
Many people enjoy Haleakala National Park on a "free day" in Maui. Or go shopping, snorkel across the beach from the Condos; or book a kayak or snorkeling cruise; or learn how to paddle surf. Other adventures include enjoying one of the "best zip lines in the U.S." or cycle down Haleakala volcano. If that isn't enough, rent a jeep and drive the whole island or take a tour of the Road to Hana.
Bicycling route: free day
Day 6, Thursday; November 7, 2024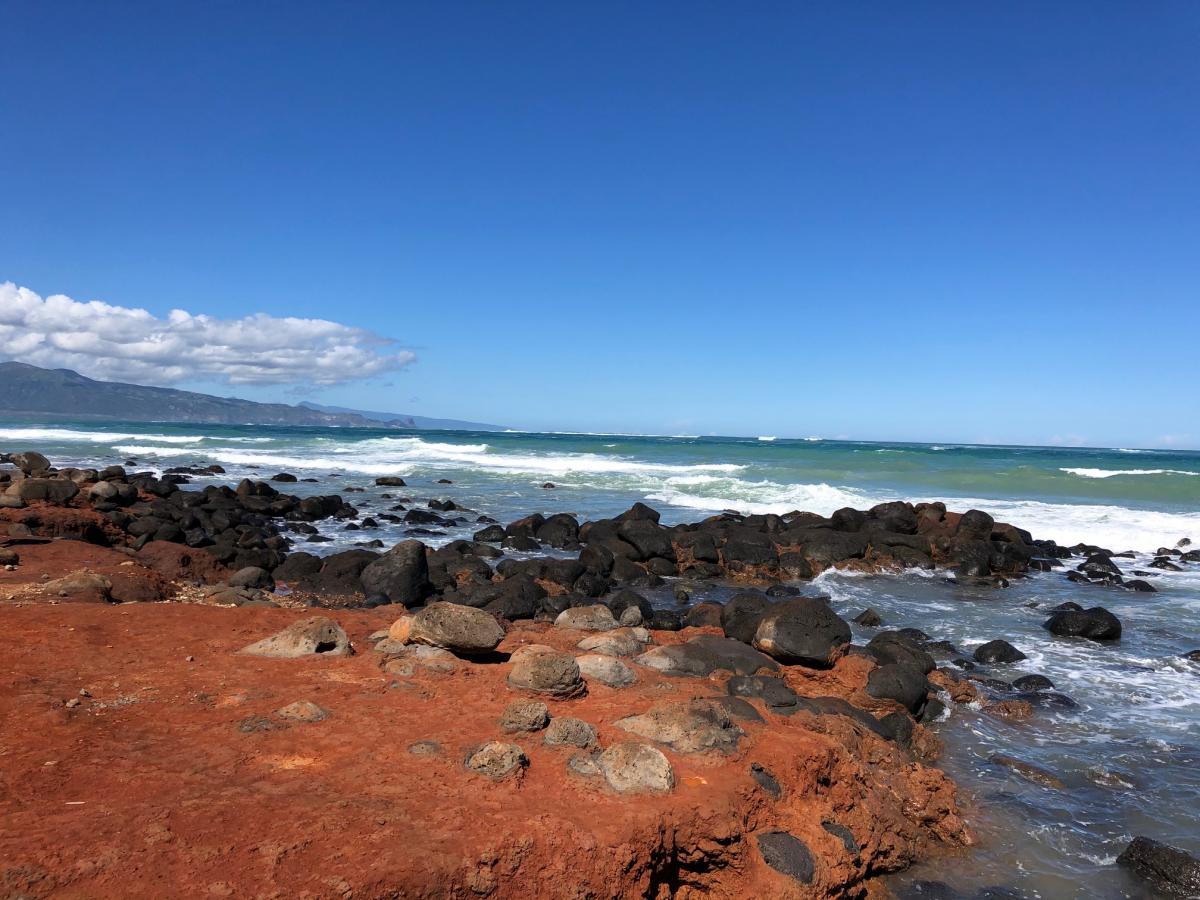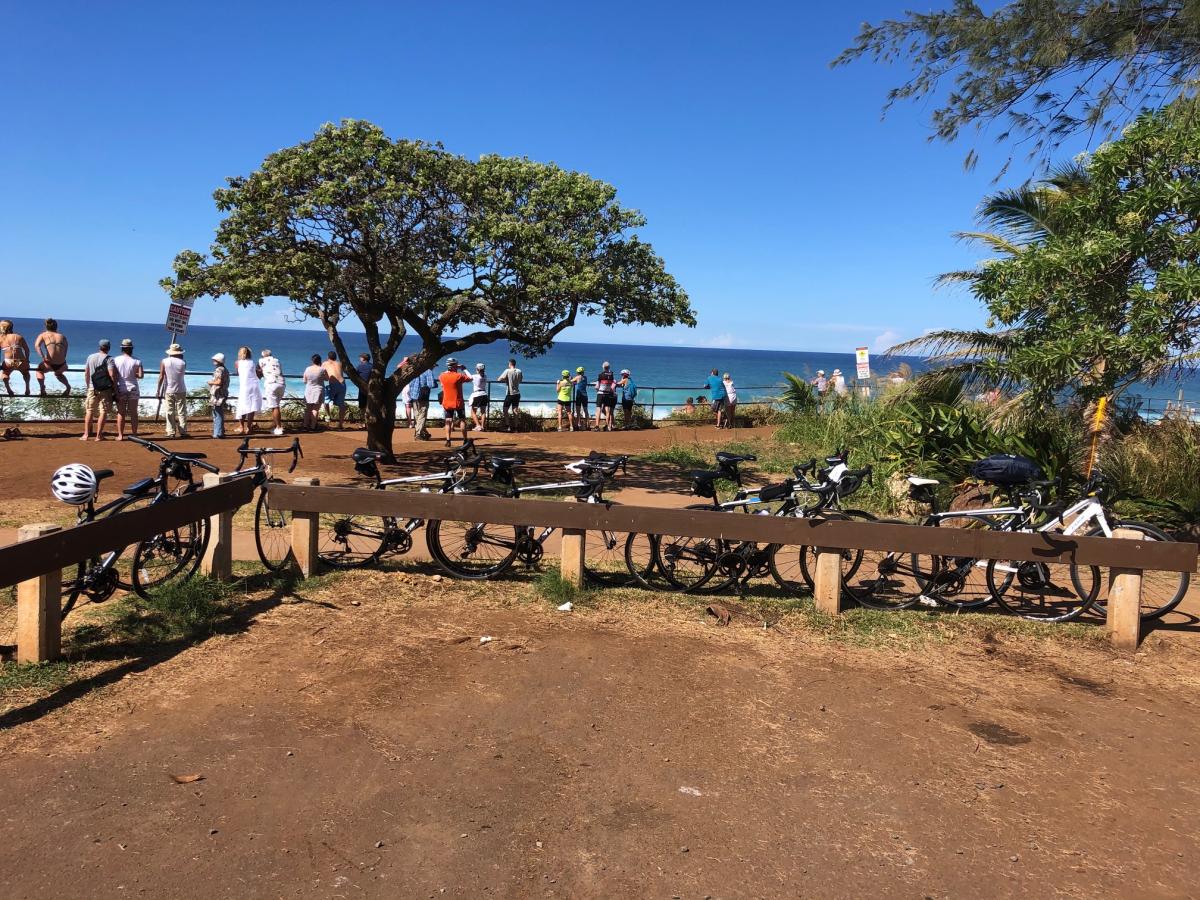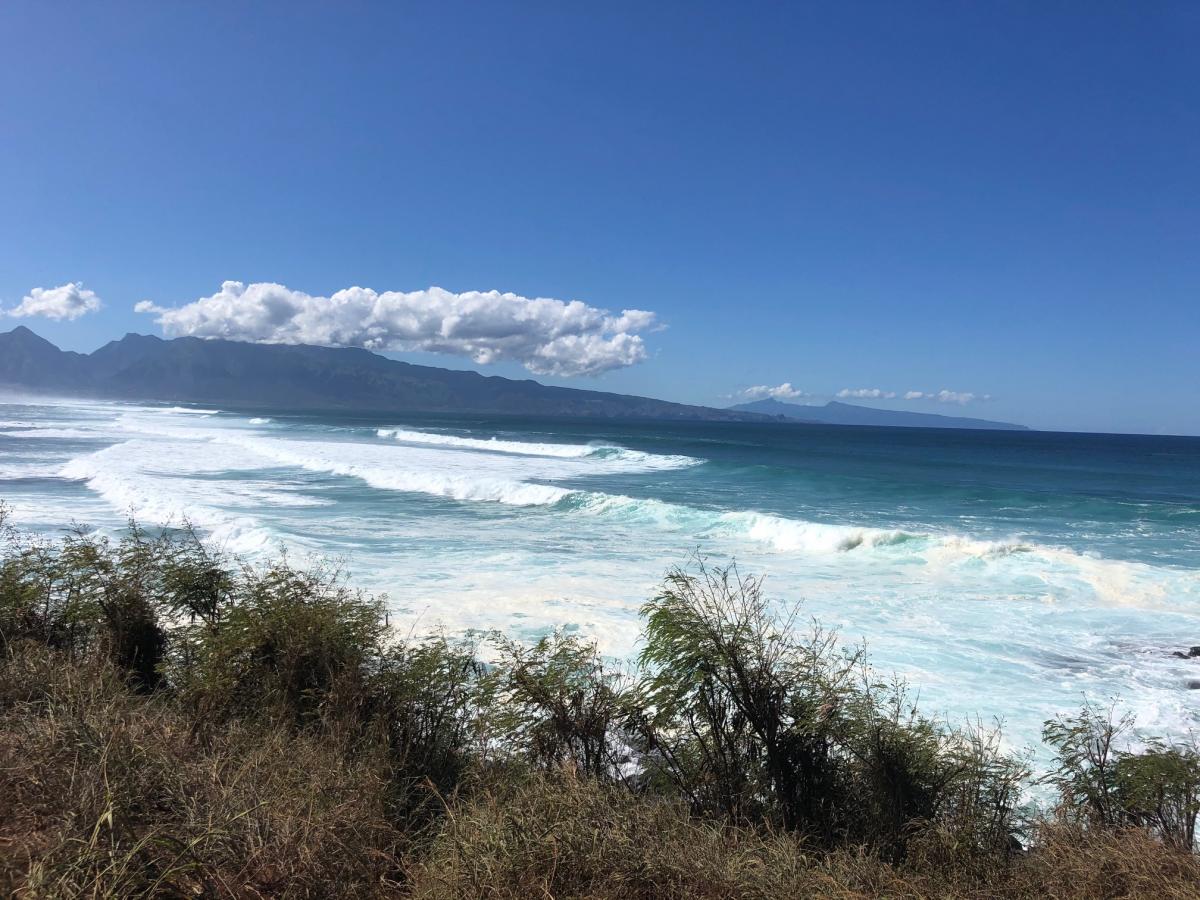 Paia with Paved Dedicated Paths between Kihei and Kahului
Now that we have ridden next to the ocean, what can top that?  Ride past pineapple orchards and sugar cane fields, while viewing rainbows overlooking the mountains.  Journey from Kihei to Paia, one of Maui's hippest little towns. We will also stop by Hookipa to watch some of the country's best windsurfers and kite boarders.  After arriving back at the hotel enjoy snorkeling, sea kayaking or just watch the sunset at night in one of the best sunset viewing areas in Maui, located directly across the street from where we are staying. 
Bicycling route: 0 miles, staying at the condo or 39 miles, riding round-trip to Paia.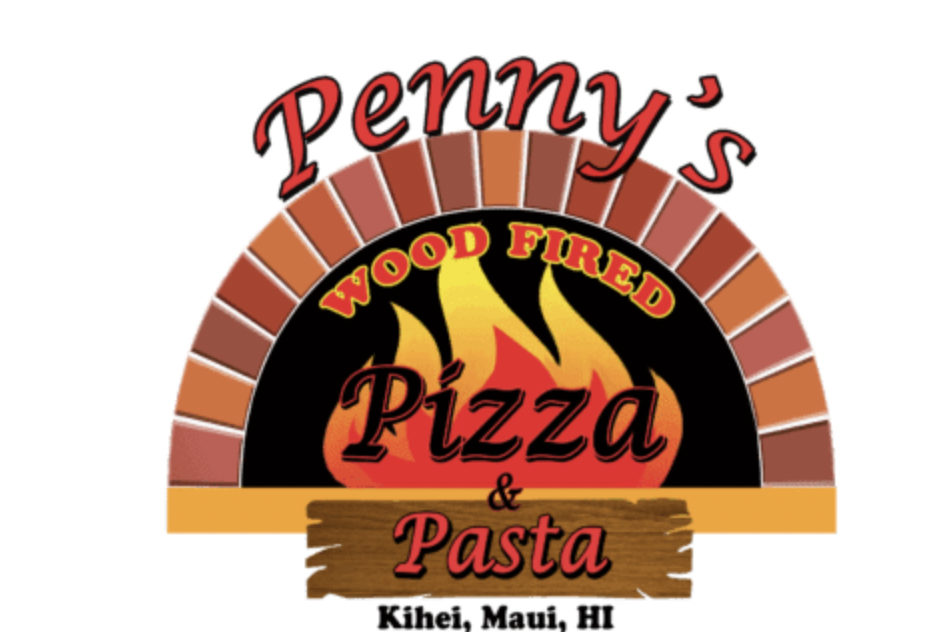 Dinner:
Penny's Pasta & Pizza
Entree choices:
Chicken Parmesan - The classic Italian breaded chicken breast, thinly sliced & topped with melted mozzarella. Served over spaghettini 

Shrimp Fry diabolo -

 Sautéed shrimp tossed in a spicy tomato sauce, spiked with white wine served over spaghettini

Spaghettini & Meatballs - House made meatballs & marinara sauce
Lasagna - Italian sausage & ground beef, baked with mozzarella and ricotta cheese
Day 7, Friday; November 8, 2024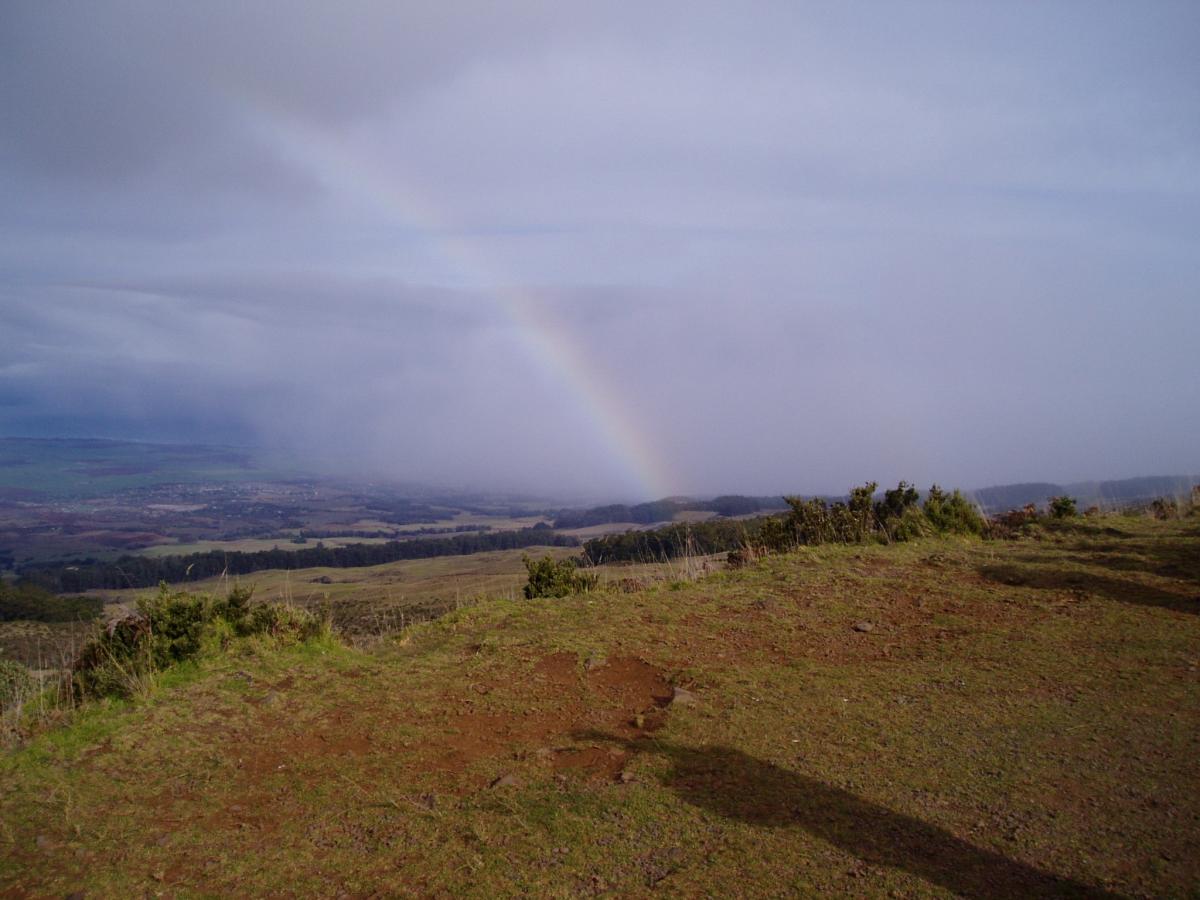 Say "Aloha" to Maui. Say goodbye to your favorite sights and mail your coconuts to favorite family members and friends so everyone will know you vacationed in Maui on a bicycle!
---
Please note all trip information is based on previous trips and/or contracted lodging and restaurants and is subject to change based on availability or specific trip needs.
Riding difficulty:
Riders who are comfortable riding at least 10 miles per hour should have a very enjoyable trip. All riders may ride at their own pace, slow or fast.  If a rider is tired or feels like riding less on any day, the SAG vehicle will transport the rider to the hotel/condo.
Arriving by Plane:
You can fly directly into Maui Kahului International Airport (OGG).  For transportation from the airport to the hotel, we would recommend SpeediShuttle 877-242-5777; or take Lyft/Uber; or rent a car for the duration of the trip. Parking is free at Kamaole Sands and rental car rates are normally very reasonable.
Deposit:
$200 due to reserve your spot and the remainder due 45 days before the trip start.  
What's included:
Condominium lodging with full kitchens (Unpack only once, staying in the same Condo for the entire trip) 

Ride packets including maps and cue sheets (directions)

Fully sagged including ride leaders, luggage transport, SAG vehicle and rider assistance

Dinner with the group three nights (see above)

Fun and Enjoyment
Bicycles:
Most riders rent their bicycles on Maui.  

To rent bikes: Most participants in the past have rented bikes at Boss Frog's Dive, Surf & Bike Shop, (808) 874-5225 located a couple miles from the starting condos. Boss Frog has multiple shops on Maui. Boss Frog rents road, hybrid and electric bikes. Also, Boss Frog is open early every day from 8:00am to 5:00pm, has multiple locations and in case of a mechanical problem will just swap bikes.

If you bring your bicycle, most major airlines including Delta, American, United and Alaska Air now waive the oversize fee for bicycles (sporting equipment) and just the standard luggage fee applies. Please contact your airline for all the details.
Weather in November in Maui:
Dinner: